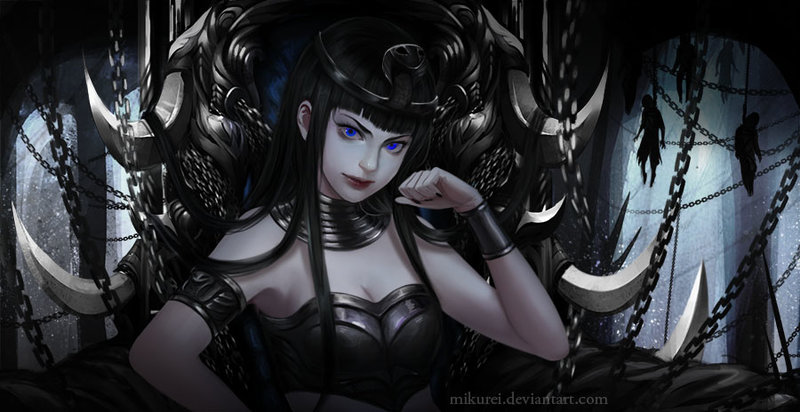 Title:Queen Lillian
Celestial Type: Demonic
Personality: Sadistic, cold, calculated, dominant, strict, tyrannical, oppressive
Likes: Submissive sisters, loyal pets, torturing unwilling souls, invading solar systems, playing sadistic games with mortals.
Dislikes: Bananas, being tickled, stupidity, not being addressed as My Lady by her family.
Lillian's Powers :
1- As a Celestial Being Lillian possesses absolute immortality, is unable to die, age, get sick, or be permanently wounded, is absolutely self-sustained, immune to mental/spiritual damage. Lillian's existence and soul become completely free and independent of even the concept of reality, making Her unbound to the subjects of life, death, and manipulations, the only being able to truly harm her in a sense of actual damage is the creator.
2- Omni Chaos: Lillian can create, shape and manipulate the chaotic forces in the universe, allowing her to manipulate probability or manipulate and even shatter reality. she is able to change, mutate, destroy or otherwise manipulate any matter, space/time, living beings, organizations or minds and spirits as well as containing it, so it doesn't spread or spreads only on desired way, however the more she uses the power of chaos on a grand scale the more it drains her out of energy and weakens her maker her sleepy and/or dizzy.
3- Lillian Possess supernatural strength level 2.
Lillian's Weaknesses:
1- Opposing forces of her powers and nature: example the force of order
2- Feels pain to a certain degree can get knocked out if enough force applied ( the force must be intense on at least cosmical level such as Absolute strength)
3- sensitive feet.
Lillian's bio: Lillian is one of the 12 celestial Queens of the Empire galaxy, she rules over 5 massive solar systems as Queen, born a 100,000 years ago Lillian did not start as Queen she roamed her mother's galaxy playing sadistic games with mortals on many planets, making her a force to be feared and many myths and stories were soon spread about her.
AS time went by she attacked one of the elite solar systems and a war started between her and this solar system kingdoms, her alone vs millions of fleets across the solar system, at first she played with them for a while but soon she got serious using her chaos force she obliterated most of the planets armies, and declared her self Queen of this solar system.
Gathering whats lift of the habitants of this solar system she invaded 4 other solar systems, creating a mighty Queendom of 5 solar systems, where she ruled with an iron fist, as this went on for thousands of years.
currently Lillian rests somewhere in her Queendom where it is ruled by a group of powerful demonic females called the duchesses ( 5 demonic girls i will be creating >_> )