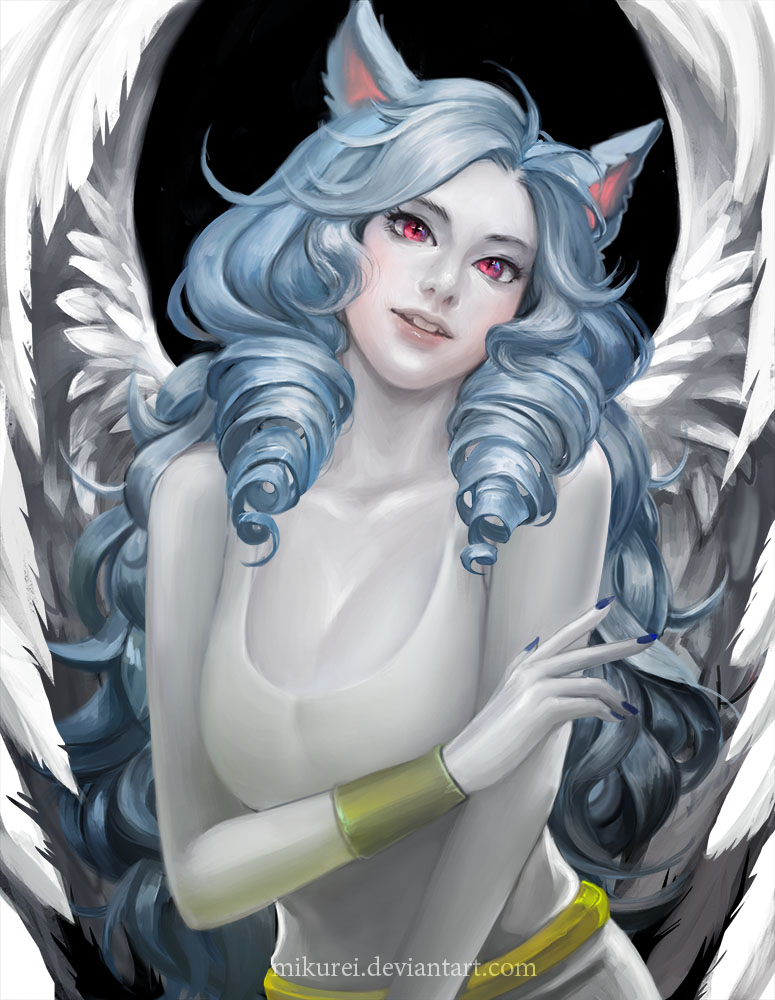 Title:Queen Luna
Celestial Type: Angelic
Personality: Dominant, gentle, kind, a sweet heart, loving, loves to pleasure others and make them happy, a powerful sense of justice, merciless to evil mortals and Queens Guards.
Likes: Strawberries, persuading her evil sisters to stop or tone down their doings, playing with mortals and being playful with them, granting wishes to those in need, trying new things, pretending to be mortal among mortals.
Dislikes: unjustified cruelty, tyranny, someone staring at her feet, butt, legs, breasts ( very shy), having her hair touched ( no missing with her hair !) having her tail touched ( again a no no)
Luna's Powers :
1- As a Celestial Being Luna possesses absolute immortality, is unable to die, age, get sick, or be permanently wounded, is absolutely self-sustained, immune to mental/spiritual damage. Luna's existence and soul become completely free and independent of even the concept of reality, making Her unbound to the subjects of life, death, and manipulations, the only being able to truly harm her in a sense of actual damage is the creator.
2- Almighty Voice of Holy and order, Luna can create and command almost anything and everything, even bending reality by only speaking. Creation and sovereignty can range from cosmic creations (universes) to conceptual creations (time), Luna with her voice can create, shape and manipulate order on a literal, symbolic, conceptual and physical level. she have the ability to recognize, discern, envision and understand underlying patterns and structure of anything physical, social, mental or natural and know their weaknesses, strengths and all other information and how to use them to reach the wanted goal.with her voice is she is able to turn even the most un-ordered situations into well organized and properly structured systems, also with her voice contains the  power to project, cleanse, heal, shatter, destabilize, disintegrate, other things in the surrounding using only her voice alone its called Holy voice, Luna also possess Holy Breath.... its the ability to generate and manipulate divine energy within them in a way that allows them to shape the exhaling of the effect. These shapes can include bursts, streams, spheres, even a mist of it from the mouth.
3- Luna Possess supernatural strength level 2.(edited)
Luna's Weaknesses:
1- as the rule of thumb goes, opposing celestial forces cancels each other, so her weaknesses would be omni chaos, almighty defense, absolute evil force or omni unholyness.
2- having her hair missed with or her tail pulled misses with her mentally
3- perverts staring at her can severely distract her
4-evil children, she cant punish them because she finds them adorable.
Luna's bio: Luna is one of the 12 Queens ruling the Empire galaxy, she was born from the Mother Empress 4 million years ago, since childhood Luna chose to live among mortals and study their life and that led her to be fascinated by mortals styles of life, studying even flora and fona, she grew to appreciate life and learned how precious and fragile it is, traveling with her powerful wings from planet to planet, solar system to solar system. learning and studying as she went on her journey.
But while she did so, she countered evil in many forms and witnessed how it destroyed what she held dear, it saddened her angered her, so she decided to fix this by enforcing peace and justice among the mortals, with her voice she created a giant planet, she then gathered a massive variety of species from around her Mother's galaxy and made this giant planet as their home, she gave them everything they needed, she thought by rising them far away from evil that this planet she made would be peaceful and happy however she was wrong...
as Evil is within the nature of all living beings, there is dark and light in all what breathes and thinks, and Luna never understood that, she saw that the mortals within her planet evolved and hostility, oppression, aggression, wars, civilizations and slavery has eventually formed among the mortals over time, that angered her so much so she started to become strict, enforcing rules, she created the Angels a powerful form of galactic beings to enforce her laws in her own planet, but as a result of this so much blood shed has happened, slowly Luna became the thing she hated most, she became tyrannical and oppressive, killing many that broke her own rules, and that hit her hard, she realized what she has done, and with a broken heart she took her angels scattered them across the galaxy and left the giant planet alone, no longer ruling it.....and disguised her self as a mortal roaming the galaxy freely, however as millions of years passed, ancient structures of her tyranny exists this current time line in that giant planet ancient ruins with symbols and statues showing luna and her angels tormenting the mortals, however the giant planet it self thrived and became one of the top civilizations in technology and achievements around the Galaxy Empire.
UPDATE: the super planet Luna created would be called Aldenia, and is later ruled by Queen Evalia.